Jeans are unquestionably the most versatile and long-lasting piece of clothing in any wardrobe. They come in a variety of colors, shapes, sizes, and styles—you name it. While pairing your favorite denim with a graphic tee for a casual look is simple, figuring out how to dress up jeans to make them suitable for any occasion requires a little more imagination.
What is the best way to wear jeans?
Whatever style of jeans you prefer, there's a method to make them seem as professional as you want. These stylish people can dress up any pair of jeans with easy methods like adding a blazer and heels or mixing a graphic top with a more refined jacket. Don't be scared to take risks, try something new, and change things up.
If you want to hide or cover your belly fat, solid-colored pants are the way to go. This is due to the fact that dark colors do not reflect a lot of light, making everything look uniform. Also, stay away from shadows. You don't want to draw attention to the place you're trying to conceal. Some colors of jeans I recommend for girls are: Black, Blue, white, Baby Pink, Camel, Carmine Red, Dark Blue, Hot Pink, Light Grey, Moss Green, Navy Blue and Red jeans.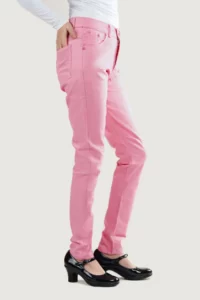 How can you make a jeans look fancy?
Choose the Right Waistline for Your Jeans
Distressed denim should be avoided.
Darker jeans are a better choice.
Select a Traditional Style.
For a bold look, play around with color.
Pair your denim with a delicate fabric or a top.